Recipes
Baked Pumpkin Squash (Zucca al Forno)
Ingredients:
2 pounds butternut squash (1 medium squash)
3 to 4 tablespoons olive oil (or as needed to cook all of the squash)
1 tablespoon finely minced garlic
2 tablespoons sugar
1 to 2 tablespoons balsamic vinegar
Salt and freshly ground black pepper
5 tablespoons chopped fresh mint
½ cup slivered almonds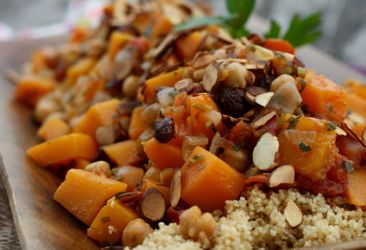 Contributed by: Joyce Goldstein
Source: www.cuesa.org
Serves 4
Preparation
Peel the squash with a potato peeler. Cut the squash in half, scoop out the seeds, and save them for the rainbow chard recipe.
Cut the squash crosswise into ¼-inch thick slices, then cut the slices in half again. You should have about 4 to 4½ cups. (Alternately, you may dice the squash into 1-inch cubes. This is an aesthetic decision.)
Warm the olive oil in a very large sauté pan. Cook the squash in batches over moderate heat, stirring occasionally, until crisp-tender, about 5 to 8 minutes. Add more oil if needed. Add the garlic, sugar, balsamic vinegar, salt, and pepper and cook for a minute or two longer. Toss in 3 tablespoons of mint.
Transfer the squash to a lightly oiled gratin dish or individual ramekins. (You can prepare the gratins in advance, up to this point of baking, and refrigerate them.)
Preheat oven to 400°F.
Toast the slivered almonds in a small sauté pan on medium heat for 4 to 5 minutes.
Add about ¼ to ⅓ inch of water to the gratin dish or ramekins. Cover with foil and bake for 25 to 30 minutes or until the squash is tender. Finish by sprinkling with the remaining mint and toasted almonds.
Related Recipes