Recipes
Aubergine (Eggplant) and Rice
Ingredients:
6 tbsp extra-virgin olive oil

3 garlic cloves, chopped
2 Aubergines (eggplants) diced
3 very ripe plum tomatoes, peeled and diced
12 handfuls long grain rice
2 tbsp dried oregano
salt and pepper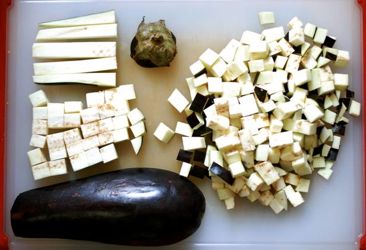 Contributed by: Lorenza De'Medici
Source: 'A Passion for Vegetables'
Serves 6
Preparation
Heat half the oil in a pan and sauté the garlic for about 3 minutes, or until translucent. Add the Aubergine and sauté for about 5 minutes over a low heat, stirring occasionally.

Add the tomatoes and salt and pepper to taste, cover and cook for about 20 minutes or until the liquid has evaporated.

Meanwhile, bring a large saucepan of water to a boil and add a little salt and the rice. Cook for about 12 minutes until al dente, then drain and mix with the remaining oil.

Pile the rice on a platter, pour the aubergines on top, sprinkle with the oregano and serve immediately.  
Related Recipes