Recipes
Arugula, Fennel and Orange Salad
Ingredients:
For the citrus vinaigrette:
1/4 cup fresh orange juice
2 Tbs. fresh lemon juice
2 tsp. grated orange zest
2 Tbs. extra-virgin olive oil
2 Tbs. canola oil
2 tsp. Dijon mustard
1/2 tsp. dried tarragon
1 shallot, chopped
Salt and freshly ground pepper, to taste
For the salad:
1 large fennel bulb
3 large navel oranges
4 cups arugula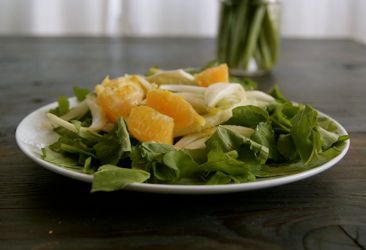 The bright flavors of peppery arugula, the anise accent of fennel and the tangy sweetness of oranges come together in this vibrant winter salad. You can make the vinaigrette and prepare the fennel and oranges ahead of time and refrigerate. Combine all the elements just before serving.
Serves 8-10
Preparation
To make the vinaigrette, in a small bowl, whisk together the orange juice, lemon juice, orange zest, olive oil, canola oil, mustard, tarragon and shallot. Season with salt and pepper. Set aside.
Cut off the stems and feathery fronds of the fennel bulb and remove any bruised or discolored outer layers. Cut the bulb in half lengthwise and cut out any tough core parts. Cut the bulb halves crosswise into slices 3/8 inch thick and then cut the slices into 1-inch lengths.
Working with 1 orange at a time, and using a sharp knife, cut a slice off both ends of the orange to reveal the flesh. Stand the orange upright on a cutting board and thickly slice off the peel and pith in strips, following the contour of the fruit. Cut the orange in half crosswise, place each half cut side down, and thinly slice vertically to create half-moons. Repeat with the remaining oranges.

Place the fennel and arugula in a large serving bowl, add half of the vinaigrette and toss gently to coat thoroughly. Arrange the orange slices in a pinwheel or other design on top. Drizzle with the remaining vinaigrette and serve immediately.
Related Recipes