Recipes
Curried Kabocha Squash and Chicken Stew
Ingredients:
2 tablespoons vegetable oil
1 medium onion, minced
3 cloves garlic, minced
2 pounds boneless, skinless chicken breast, cubed
1 small kabocha squash (about 3 pounds), peeled, seeded, and cut into 3/4-inch chunks
2 tablespoons fish sauce
1 (1-inch) knob of ginger, peeled and lightly smashed
1 1/2 tablespoons curry powder
1/2 cup coconut milk
Kosher or sea salt and freshly cracked black pepper
Fresh cilantro and scallions, chopped, for garnish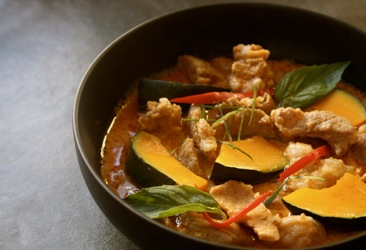 Contributed by: Diane Cu and Todd Porter, From the Book, 'Bountiful: Recipes Inspired by Our Garden'
Source: http://www.santacruzsentinel.com/food/ci_24457678/soups
Serves 8
Preparation
1. In a large pot, heat the oil over medium heat. Add the onion and garlic and cook until soft. 2. Add the chicken and cook until browned, about 3 minutes. 3. Add the squash, fish sauce, ginger, curry powder, coconut milk, salt and pepper to taste, and 2 cups water. Stir to combine. 4. Turn heat to low and cook 20 to 30 minutes, or until the squash is tender. If needed, add additional water to cover the squash, about a quarter-cup at a time. (Season to taste with extra salt and pepper if you add additional water.) Garnish with the cilantro and scallions and serve.
Related Recipes