Recipes
Gingered Cranberry Campari Spritz
Ingredients:
2 Tbsp. fresh grated Ginger
2 Cups fresh Cranberries
1 Cup Cranberry Juice
1 Cup Water
1/4 Cup Sugar
8 oz Campari
1 Bottle chilled Prosecco or Sparkling White Wine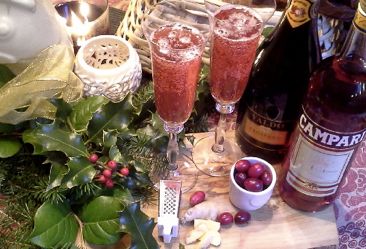 This sparkling libation is fun as a pre-meal refreshment or as a tantalizing twist on a bubbly classic for a toast.
Contributed by: Ashley Redfern
Source: http://www.fullcircle.com/
Serves 4
Preparation
First, simmer Ginger, Cranberries, Juice, Water and Sugar together in a pan on medium heat until berries burst.
Cool and strain liquid through a fine mesh sieve (delicious gingered cranberry sauce is a welcome by-product).
Add strained liquid to Campari and pour 1/4 cup into 8 champagne flutes.
Top glasses off evenly with chilled sparkling wine/Prosecco. Salute!
Related Recipes