El Pajaro Valley CDC Incubator Kitchen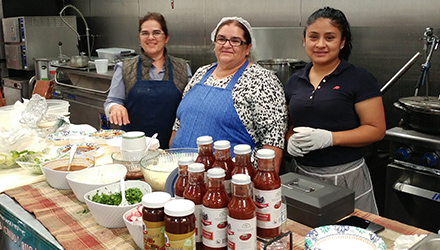 Type:
Owner:
Pajaro Valley Community Development Corporation
Phone:
831-722-1224
Email:
cesario@elpajarocdc.org
Website:
http://www.elpajarocdc.org/en/commercial-kitchen-incubator
Facebook:
https://www.facebook.com/pages/El-Pajaro-Cdc-Commercial-Kitchen/158490820985721
People:

Vendors selling with the Pajaro Valley CDC Incubator Kitchen Stand

My Mom's Mole: traditional and unique packaged mole for sale and a simple mole menu.

The Green Waffle: packaged frozen waffles made with whole, healthy foods and a simple menu.

Oh! dip luscious: Mediterranean dips to order and packaged to take home.

El Nopalito Produce: cactus salad made with local cactus.

Artisan Hand Foods: savory meat pies with international flavors

Laviathan Foods LLC.: nutrient dense bars made with whole ingredients.

Unique Sweets LLC.:infused balsamic vinegars.

Almighty Kombucha: kombucha made locally and served on tap or growlers to-go.

Vinegirl Products: locally sourced apples, turned into high-quality vinegar aged to perfection.

Yoly's Adobo: meat marinade seasoning and ready-to-eat, delicious, simple dishes with marinade.

Lo Major de mi Tierra: traditional Colombian empanadas served hot.

Splendid Blend: dense smoothies using whole ingredients - great for a meal on the run.

Bio:

For almost 40 years El Pajaro Community Development Corporation, a nonprofit based in Watsonville, has been dedicated to supporting new and existing entrepreneurs to create, develop, and expand their business ventures. They provide bilingual (Spanish and English) business incubation services, free business consulting and loan packaging and low-cost trainings as well as access to a Commercial Kitchen and Plaza Vigil Retail Incubators. El Pajaro staff and team of consultants work to provide their clients with proper tools and skills needed to thrive as business owners.

The Incubator Kitchen crew joined the Santa Cruz Community Farmers' Markets (SCCFM) in 2017. Their market booth, a collaboration between El Pajaro CDC and SCCFM, is the perfect way to support emerging food entrepreneurs and provide the community access to their unique products! The rotating booth increases their clients' visibility, and gives the business owners marketing experience. They are assisted by El Pajaro CDC staff on menu development, marketing, customer service, branding, and more!

At El Pajaro CDC stand you will find a delicious, creative area of prepared, ready-to-eat foods. Stop by and say hi to their friendly staff and inquire more about their programs, services and all the different and exciting projects coming up!