Apricot King Orchards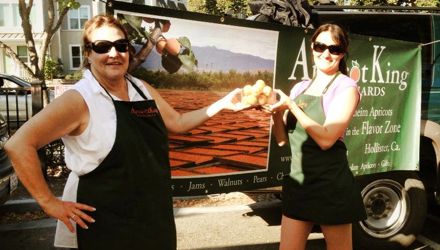 Type:
Farmer
Owner:
Patti and Gary Gonzales
Phone:
831-637-1938
Email:
info@apricotking.com
Contact:
55 Henry Street
Gonzales, CA  95023
Website:
http://www.apricotking.com
Facebook:
https://www.facebook.com/pages/Apricot-King-Orchards/122546161091694
People:

When Patti first set her eyes on Gary Gonzales he was wearing a two-piece leisure suit. More than 30 years later, kids grown and many seasons behind them, they are still running Apricot King Orchards. Gary, who's father started the business, manages the orchards. Patti does the bookwork, the kids do the packaging and labeling while Dad oversees farm operations. Everyone chips in to staff the farmers' markets.

Bio:

In 1946 Frank Gonzales returned from World War II and bought 10 acres of apricot trees in the Hollister area. He and his wife Mary Gonzales began farming in Hollister when they were married over 55 years ago. They raised three children on the 120 acre ranch. Frank and Mary's son, Gary Gonzales, returned from the Peace Corp in 1972 and began to work the apricot orchard with his father. He has now been managing it for decades. Until 1992 the family sent 60 tons of dried, unpacked fruit to two large wholesalers, Del Monte and Mayfair. When Turkish imports began to flood the market, they had to revision their business strategy. Apricot King began to sell at the farmers' markets, little ones in tow.

About:

Specializing in the rare Blenheim apricot, the Gonzales's also sell walnuts, prunes, pears and cherries. All of their fruit are sun dried in large trays outdoors. Patti says that 25 years ago there were over 50 families growing apricots in the Hollister area. Now there are only a few. It's a challenging business to maintain but with hard work and creativity Apricot King Orchard is doing well and Gary and Patti hope to pass the orchard on to their three children, all who currently work for the business. Visit them and taste their delicious fresh and dried apricots at the Downtown Market.

Land:

60 acre ranch in Hollister. 40 acres on the home ranch and 20 acres out.

History:

Since 1946, the Gonzales family has grown rare California Blenheim apricots. They continue to be the farmer, pruner, dryer, packer, and seller of the vanishing Blenheim apricot. Since 1926, they have been a family owned and operated business. Apricots and walnuts have been farmed exclusively since their son, Gary, returned from a stint in the Peace Corps in 1971.

Pest Management:

Organically spray herbicides and pesticides phermone traps beneficials plants.

Soil:

Clay loam

Water Use:

Well water and a drip system

Weed Control:

A lot of hoeing. Cover crops. Vetch.