NahNa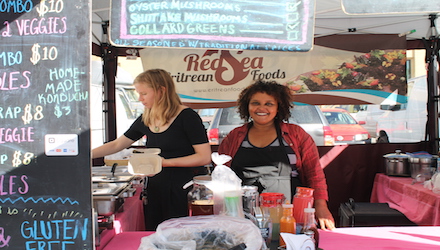 Type:
Artisan
Owner:
Tsegereda Embaye
Phone:
831-359-7125
Email:
tembaye91@gmail.com
Bio:

NahNa is a family-owned and operated business that has been selling high quality Eritrean food at the Downtown Santa Cruz Farmers' Market for more than 10 years. NahNa offers a modern twist on delectable, traditional Eritrean cuisine, featuring flavorful stews, fresh vegetables and a variety of meat and non-meat options, wrapped in deep tradition and homemade Taita flatbread.

Drop by and enjoy the mouthwatering aromas and flavors of Eritrean cuisine, inspired by Mediterranean and Ottoman culinary traditions.

About:

'Eritrea' is the name given to the Red Sea by Greek tradesmen in the third century B.C. Officially the State of Eritrea is a country in the Horn of Africa. It is bordered by Sudan to the west, Ethiopia in the south, and Djibouti in the east. The northeastern and eastern parts of Eritrea have an extensive coastline along the Red Sea, across from Saudi Arabia and Yemen.