Ken's Top Notch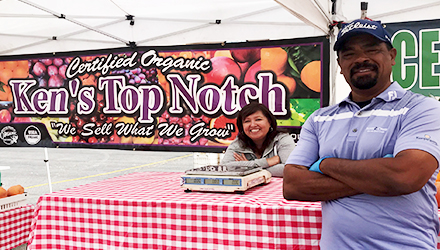 Type:
Farmer
Owner:
Ken Lee
Website:
https://www.instagram.com/kenstopnotchproduce/?hl=en
Bio:

Ken grew up on a farm in the Central Valley, working in the fields and going to school. As a young adult he was earning his engineering degree when he came to terms with the fact that his heart wasn't in it. He missed working outside with his hands, he missed agriculture. Ken returned to farming and learned the business through and through from trucking to harvesting, orchard maintenance and sales.

Eventually Ken was able to purchased his own 20 acres of land in Reedley, CA and over the next 25 years expanded Ken's Top Notch farm into a 250-acre certified organic orchard. Ken knows first hand that organic farming is more difficult. It involves more labor and more costs. But he also feels it is common sense, for human health and environmental health. He enjoys the land stewardship piece of farming and composts all excess food to enrich the soil on his farm. One of his greatest enjoyments of this work is growing incredible tasting fruit and being involved in every piece of it from planting the trees to interacting with customers at farmers' markets.