Beckmann's Old World Bakery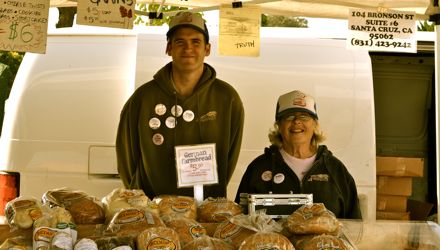 Type:
Artisan
Owner:
Peter Beckmann, Sharon May, Beth Holland (Farmers' Market Sales Manager Scot Adam).
Phone:
831-423-9242
Email:
customerhelp@beckmannsbakery.com
Contact:
104 Bronson St. #6
Santa Cruz, CA  95062
Website:
http://www.beckmannsbakery.com
Facebook:
http://www.facebook.com/pages/Beckmanns-Bakery/158211723462
People:

120 Employees

Bio:

Peter started baking up on the UC campus in one of the co-ops in 1986 and slowly the business has grown to what it is today.

About:

Beckmann's is an all-natural, from scratch bakery making many kinds of breads and pastries. They use no GMOs, preservatives, dough conditioners, artificial colors or flavors. They have several flavors of slow-rising sourdoughs, Whole Grain Breads, Apple Cinnamon Swirl, German Farm Bread, Francese, Jalapeño Cheese Bread, Focaccia and "Home Bake" (brown and serve) breads. Their pastry offerings include a variety of pies in two sizes, bear claws, shortcake, cookies, scones, banana bread and pumpkin bread.

Sourcing:

Their Pure Rye and Organic Francese are organic products. They make the Honey whole wheat with all organic ingredients except for the local honey. Certified CCOF.

Specials:

They have a category of products that are offered at $6 each or 2-for-$10. Included are bags of cookies, banana bread, pumpkin bread, shortcake, cheese twists and soon to be released brownies.