Fennel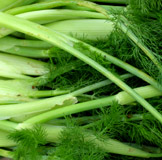 Fennel was first grown in countries surrounding the Mediterranean and was eventually cultivated throughout Europe, India, and the U.S. Fennel now even appears in the wild throughout the world, growing near dry soil and coastlines (it grows wild all over the Bay Area).
Fennel belongs to the Umbellifereae family and is closely related to parsley, carrots, dill and coriander. This versatile vegetable is known for its aroma of licorice and anise The bulb, stalks, seeds, and leaves are all edible and the bulb has a crunchy texture similar to that of celery. .
Store fennel in the fridge for up to 3 days and keep submersed in water to retain its moisture and texture. To prepare, wash the fennel bulb clean and remove the core by slicing vertically through the bulb and cutting off the core, which is too tough to eat. Fennel bulbs can be chopped, julienned, or diced for cooking, or thinly sliced across the bulb with a mandolin and used as a fresh ingredient in salads. The stalks of the fennel can also be used for soups, stocks and stews, and the feathery leaves can be used as an herb seasoning.