Stockwell Cellars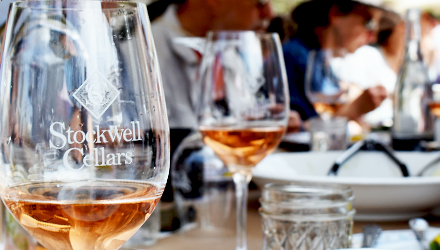 Type:
Artisan
Owner:
Eric and Suzanne Stockwell
Phone:
831-818-9075
Website:
https://www.stockwellcellars.com/
Facebook:
https://www.facebook.com/StockwellCellars/
About:

Stockwell Cellars joined the Market circuit in 2018 and have generously partnered with us in bringing their quality wine to the Pop-Up Breakfasts. Eric Stockwell was bitten by the winemaking bug in the early 2000's. While running his own welding and metal fabrication business, he started making wine at home. Over the next decade he honed his skills and increased his yield. Through exploration and experimentation, he eventually came to focus on creating unmanipulated single varietal wines using Old World techniques.

By 2014, it was clear that his passion for winemaking had blossomed into the makings of another business. That spring, he cleared out the back half of his westside Santa Cruz welding shop and opened Stockwell Cellars to an appreciative public.

Based in the Santa Cruz, California wine region, Stockwell has access to some of the most distinctive grapes in the world. They source from central coast viticulturists (grape-growers) dedicated to meticulous farming practices.

Their wines are made with grapes harvested at a lower brix level, resulting in lower alcohol wines, and rely solely on wild, native yeast to facilitate fermentation, rather than using commercial yeast preferred by most winemakers. The result is truly complex and distinctive wines that showcase the subtle changes in the grapes of each vintage.

Visit them at the Westside and Downtown farmers' markets seasonally and at our Pop-Up Breakfasts were they pour tastings.