Sequoia Seaweeds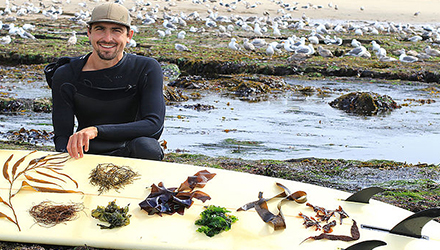 Type:
Owner:
Ian O'Hollaren
Phone:
805-766-8403
Email:
seaquoiaseaweeds@gmail.com
Website:
https://www.seaquoia.com/
People:

One harvester and owner, Ian O'Hollare.

Bio:

Seaquoia Seaweed is a wild California seaweed and kelp company. Owner Ian O'Hollare harvests along the central coast of California and North of Santa Cruz, offering seasonal varieties of hand harvested wild sea vegetables.

About:

Sequoia Seaweed was born from Ian O'Hollare's love for the ocean. A California native, he found himself studying tropical horticulture at the University of Hawaii, Hilo and transitioned from a life of farming terrestrial plants back to a true passion which revolves around the sea. Ian began exploring California's coastal resources, learning about kelp and seaweed. Initially his intention was to create a local kelp fertilizer which he accomplished getting CDFA anfd OMRI certified. During this process Ian discovered the amazing intertidal seaweeds that grow along California's shores. As restaurants, seafood distributors, health food stores and individuals expressed an interest in eating and learning more about this sustainable resource Sequoia Seaweeds came to be.

In addition to dried and fresh seaweeds Ian has development a freeze-dried kelp powder made from giant lelp, aka Macrocystis pyrifera. This is the iconic kelp that dominates the kelp forests from Southern to Central California. Ian hand harvests hundreds of pounds and has it freeze dried in a state of the art facility in California. This supplement is rich in Iodine and many other minerals and vitamins.

Sourcing:

Sustainable harvesting in the Pacific Ocean.