Rogue Pye by Artisan Hand Made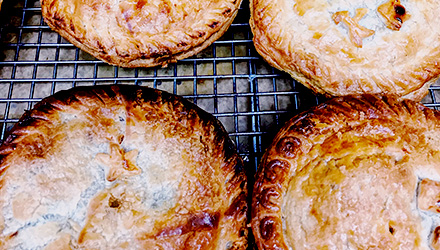 Type:
Artisan
Owner:
Ed and Uandi
Phone:
(831) 251-4402
Email:
ed@roguepye.com
Website:
http://www.roguepye.com
Facebook:
https://www.facebook.com/roguepye
About:

Rogue makes quintessential hand-held savory vegetarian and meat pies. Ed and Uandi are the owners, originally from South Africa but widely traveled. They have been in the USA for close to 30 years. Andrea is their right-hand who has been instrumental in making pyes for nearly five years and is a regular and wonderful presence at the farmers' markets.

Their philosophy is to focus on natural ingredients and they do not use any artificial ingredients. The foundation of their pyes is their pastry - Rogue uses a European style butter (Plugra). Their top crust is a French puff pastry and the bottom crust is a quick puff with more bread flour for strength to hold the 4.5 ounces of filling. They use fresh lamb, grass fed beef, air chilled organic chicken and organic vegetables when possible. The only frozen ingredients they use are French petite peas.

Bring the comfort of Savory Hand Held Pyes to Expats and world travelers for over 5 years. All pyes are hand-made using local ingredients where possible.

Sourcing:

Rogue Pyes sources ingredients from local and Bay Area meat providers. They source organic vegetables from local businesses including the farmers' markets.