Old House Farm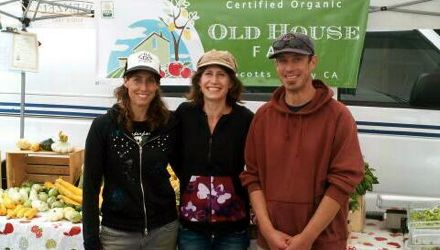 Type:
Farmer
Phone:
831-438-7209
Email:
info@oldhousefarm.net
Website:
http://www.oldhousefarm.net/
People:

Kelly Bradford and three generations within the family working on the farm.

Bio:

Old House Farm is a small-scale, certified organic family farm surrounded by redwoods in the Santa Cruz Mountains. With sunny south facing hillsides they are able to grow a wide range of seasonal vegetables, herbs and fruit year-round. Heirloom and open-pollinated tomatoes are a specialty.

Land:

At 900 ft. in Scotts Valley,CA

History:

A family of three generations works together on the farm located in the Santa Cruz Mountains. They have a long history of farming in the Santa Clara Valley, and have operated some of the last big orchards to give way to the transformation from agriculture to technology. From this past they recognize the need to strengthen and support a sustainable, local food system that can survive and thrive in a highly globalized economy.

The organic farm is home to many animal friends including hawks, owls, bats, bees, and other beneficial insects who help to keep the whole system in balance. Because of the hillside terrain, they use only drip irrigation and closely monitor and conserve water usage. Their well draws from deep underground springs nourishing all things living and growing on the property. In the steeper areas they use terracing and raised beds to prevent erosion and runoff, and outside of the deer-fenced growing area, life in the forest carries on with minimal interruption. Compost is their best friend, and they rely heavily on what they make in addition to tons (literally) of certified organic compost bought locally. Weeds and snails are no match for the goats, chickens and ducks. Every day they work towards creating a true permaculture system and are gradually learning more about biodynamic methods as well.

Built in 1879, the house was originally a summer retreat for guests to enjoy the natural springs near the creek that runs through the property. The house finally entered the modern era in 1976 with the installation of electricity.

Pest Management:

They have beneficial insects and plants for management. Healthy soils and good mulching keep pests at a minimum.

Soil:

Ammended with homemade compost. It is a sandy loam.

Water Use:

Drip irrigation.

Weed Control:

Soil health, cover crops and hand and mechanical extraction.