LeftCoast GrassFed™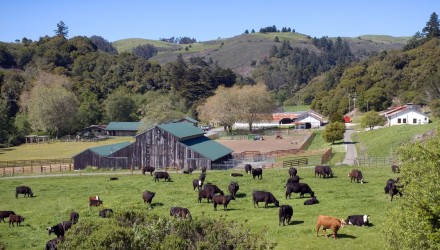 Type:
Farmer
Phone:
650-879-2147
Email:
info@leftcoastgrassfed.com
Contact:
P.O. Box 726
Pescadero, CA  94060
Website:
http://www.leftcoastgrassfed.com
People:

Kathy Webster and small crew of dedicated individuals.

Bio:

LeftCoast GrassFed is a start to finish grass-fed beef business located in Pescadero California and owned by TomKat Ranch Educational Foundation. Their mission is to provide healthy food on working lands in a way that sustains the planet and inspires others to action. LeftCoast beef is American Grassfed Association, Animal Welfare Approved, and Food Alliance certified. These certifications serve as proof of their commitment to making the world a better place by caring for the animals, the land and the community.

About:

LeftCoast raises their cattle on pasture using planned grazing methods, rotating the cattle throughout the ranch to mimic the natural pattern of wild herds and protect the complex biodiversity of the ranch. By doing so, they hope to assure healthy cows, healthy pastures and thereby, healthy products for customers. As a result of these systems of cattle ranching there has been a significant resurgence in the growth of native grasses on Tomkat Ranch pastures.

Land:

1,800 acres of which 800 is suitable for grazing. The pasture is partitioned with temporary fencing to assure an easy to deploy, migratory, low-impact grazing pattern.

History:

The cattle were first introduced as part of a rangeland restoration project at TomKat Ranch. Looking to develop a business model that was economically feasible and ecologically responsible, Tomkat developed GrassFed LeftCoast - the arm of their project that harvests the cattle and sells the beef direct to customer. LeftCoast raises Angus/Hereford crossbreed cattle (known as black baldy) because they provide a tender-finished product from a grass only diet.

Pest Management:

Pests are dealt with by using rotation grazing so that the cattle are always on fresh pasture. TomKat Ranch is also working towards using stacked agriculture, which means that a mobile chicken coop will follow the cows. The chickens then scatter the cow's waste imitating a natural and sustainable ecosystem cycle.

Soil:

Silt, clay, loam.

Water Use:

Habitat-friendly portable and fixed water troughs replenished by way of solar pump systems, or water truck.

Weed Control:

Cattle as land management tool.