Koda Farms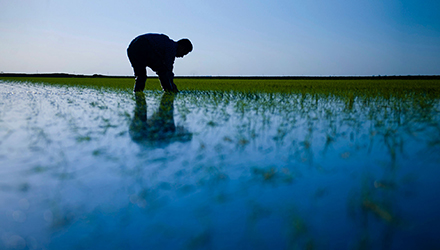 Type:
Farmer
Owner:
Robin and Ross Koda
Phone:
209-392-2191
Website:
http://www.kodafarms.com/
Facebook:
https://www.facebook.com/Koda-Farms
About:

Koda Farms cultivates and sells an incredibly unique producs - organic, traditionally farmed Japanese table rice, sweet rice and rice flours. The first rice farm in California history, today Koda Farms is owned and operated by the grandchildren of Keisaburo Koda. Ross and Robin Koda are third-generation farmers and millers continuing the detailed deliberate process of growing gourmet Japanese rice as the farm approaches its centennial.

The founder of Koda Farms, Keisaburo Koda, was born in 1882 in Japan and immigrated to California in 1908. He pursued numerous ventures and eventually began to farm rice - first leasing land in Sutter County and later, when his American-born children were eligible to own land, purchasing acreage in the San Joaquin Valley. An innovator at heart, Keisaburo helped pioneer rice growing techniques such as sowing seed with airplanes. Due to his success he became known amongst Japanese Americans as the "Rice King."

The outbreak of war with Japan in 1941 led to the relocation of Americans of Japanese descent to internment centers. The Koda Family was sent to Colorado and forced to leave their rice farm in the hands of non-Asians to continue producing food and fiber. Upon their release in 1945 all of their sophisticated machinery had been liquidated, along with their homes and livestock. Undeterred, reconstruction of the business was assigned to Keisaburo's sons who built another processing facility a quarter mile from the original homestead and gradually purchased new acreage. The internment behind him, Keisaburo focused his time and energy on improving the welfare of Japanese Americans regarding civil rights, land law and fair treatment in banking, insurance and other equal access/treatment issues. He built cross-cultural programs (focusing on farming) that encouraged better relations between the U.S. and Japan. A truly amazing leader.

To learn more about the history of Koda Farms, and their growing and processing techniques, visit them at the Downtown, Live Oak and Westside markets where they offer tastings of their high quality rice. Visit their website where they have taken the time to share their unique story.