California Kurobuta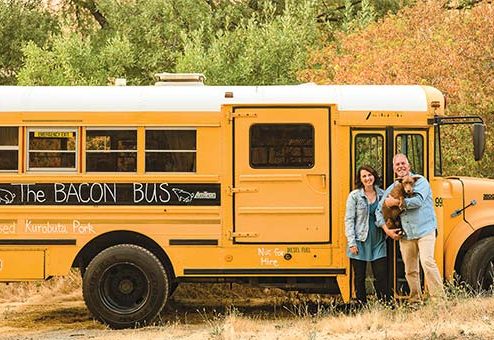 Type:
Farmer
Owner:
Jack and Sara Kimmich
Email:
info@californiakurobuta.com
Website:
http://californiakurobuta.com/
Facebook:
https://www.facebook.com/CalKurobuta/
People:

Owner Sara grew up on a small "hobby farm" where she enjoyed raising a variety of animals — dairy goats, chickens, horses, cattle, rabbits, ducks, and catfish. She has fond memories of bottle-feeding calves and kids and collecting eggs as well as memories of more difficult tasks — painting endless miles of fence in the hot sun, plucking freshly-killed chickens, and mucking out the barn. Taking the hard with the good, the experience was a wonderful way to grow up, introducing a solid work ethic early in life.

Partner-in-crime Jack was raised in a business-oriented family. After a brief stint in the US Air Force he naturally gravitated to entrepreneurship and started his own business working construction and running a landscape supply company which specializes in making compost and soil amendments. Farming was not on the list, except as a fertilizer vendor. The company is still in operation today, run by Sara and Jack alongside their pig business.

The three Kimmich children grew up learning how to operate heavy equipment, drive trucks, and talk to customers. They remain involved and the business keeps the family close knit, pulling on the strengths of each member. These days you can find California Kurobuta at the Felton Farmers' Market.

About:

California Kurobuta is a small, family-run pork business based in the Hollister region. Back in 1998 owners Jack & Sara Kimmich bought 15 acres of organic farmland in rural San Benito County. Together they built an off-the-grid farm, powered by the wind and sun, and geared to produce compost as part of a landscaping business. While Berkshire pigs have been at the center of their work since 2010, they were really an after thought. A handful of pigs were first integrated as part of a vision for a self-sustaining farm project but, as the herd expanded, so did the possibilities of raising and marketing this unique, delicious, pasture-raised pork. Thus was born California Kurobuta. Now you can enjoy the taste of high-quality, purebred Berkshire pork, from their farm to your table.